In the first interview, we'll take time to tell you all about Aprico Consultants and our vision, making sure that you have the drive and soft skills to fit in with our corporate culture. A real 'Apricotier' is someone who lives and breathes IT and who takes their job seriously, but not themselves (humour is key!). It's also important for us that you like working in a team, are honest and upfront and have a sales-focused mind-set.
If we believe you're the right fit for the job, we'll arrange for you to undergo a technical evaluation with a Subject Matter Expert in your skill set(s). This could be an interview, a test or a case study, depending on your profile and experience. Not only does this process offer us a comprehensive overview of your skillset, it's also an opportunity for you to meet your potential coach(es). The results of this technical evaluation will be analysed to see where they meet the needs of the market. This will form the basis of your career plan, the first step in your pathway to excellence.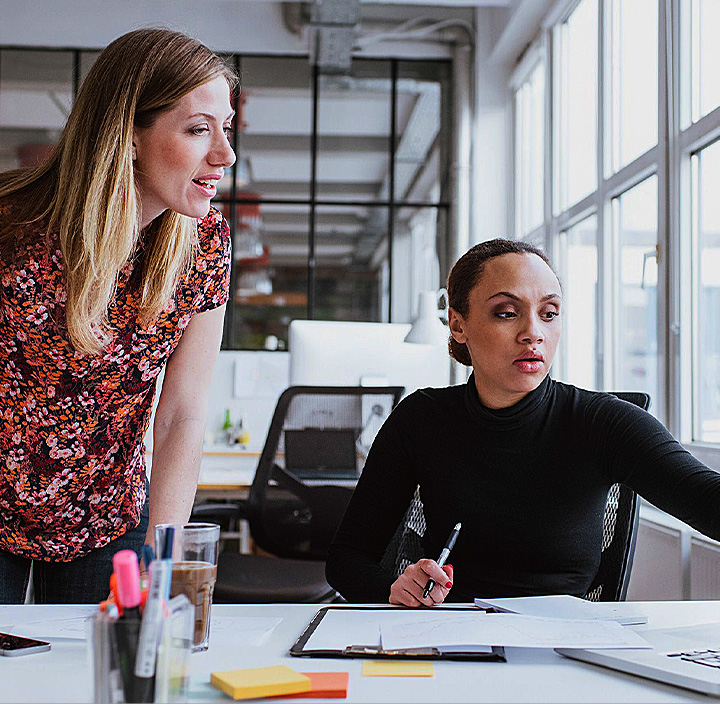 02
Onboarding
Once you've signed your contract with Aprico Consultants, we will do our utmost to ensure your transition into your new job is as smooth as possible. Not only will we take care of all the relevant paperwork, we'll also introduce you to our corporate culture and values. You'll be granted access to our internal social networks and invited to company events and, of course, you can drop in on us any time you want!
As a result, you'll already know some of the Aprico Consultants team by the time you start work and your first days here won't be wasted on red-tape. This allows us to focus on creating your career plan straightaway, in partnership with your Subject Matter Expert.
The consultant learning process is of crucial importance at our company, since quality is what defines us in the eyes of our clients. Remember, we want you to be the key driving force behind this process, from start to finish.
Your personal development plan (PDP) is where your learning process begins. Based on the results of your technical evaluation, your Subject Matter Expert will identify the areas where you can make improvements – in order to meet both market expectations and client needs. In parallel, they will take your personal goals and interests into account. Together, you'll create a plan, writing down your development goals and the actions you will take to achieve these goals. This may involve on-the-job learning, personal coaching or in-house or external training. Particular emphasis is placed on certifications. Every three months, we schedule a short follow-up session which mainly focusses on the consultant's interactions at client level and the success or otherwise of the development actions undertaken.
At the end of the year, we evaluate your output together and check if your development goals have been met. The PDP will be tailored in line with your personal development needs and ambitions.
04
What we offer
We offer a competitive compensation package, a company car, various benefits in kind and, of course, a friendly working environment, a highly organized and process-oriented approachand continuous learning opportunities.